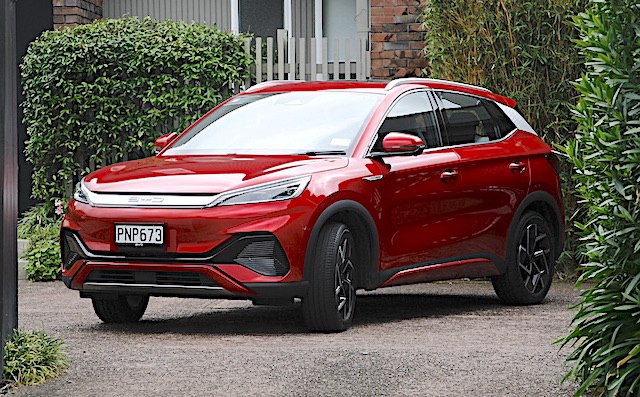 We bumped into each other at a BP station, both befuddled in front of two electric car chargers. He wanted to charge a top-up to an app on his smartphone. "Been trying for a while," he said. "Keeps telling me there's a problem with charging as a guest."
He said he was in Auckland for the day on business from Tauranga. The stitching on his shirt pocket had the name of a water pump supplier. There'd been a lot of rain about. "I told my boss I'd hire an EV while in Auckland," he said. "It works out at $20 a day more than a petrol car, but you don't have to fill up when you return it."
We were both driving battery-electric SUVs. I was in an Atto 3, a compact category model from Chinese company BYD. My problem wasn't with a phone app. It was with the BP site's cables – they weren't compatible with the charge port on the Atto 3. The fellow from Tauranga was still trying to get the app to work when I drove off. A scene from Aussie movie The Castle came to mind. The one where lawyer Dennis Denuto couldn't get the office copying machine to work.
About half-an-hour earlier, I'd tried to top up the battery at a ChargeNet station in the parking lot of a New World supermarket. But the fixed cable wouldn't lock on to the car's charge port. I Googled ChargeNet's 0800 help-line number. "Oh, there's a problem with charging at that address," said the woman. "Technicians are looking into it. There's another charge point not far away. You can't miss it – it's at a BP station …"
Later, much later, I made a note to download the ChargeNet app to my phone. Why not? There's an app for pretty much everything else. In the past 30 years, say those who take note of such things, developers have created almost 9 million mobile apps for downloads of around 255 billion. There are around 6.5 billion smartphone users worldwide, each using an average of 40 apps. Mobile apps are expected to generate more than NZ$990 billion in revenue by 2025.
Apple coined the phrase 'There's an app for that' in TV ads almost 15 years ago. Car owners the world over these days say they like the comfort of having smartphone-like app experiences in their vehicles. It's a familiarity thing. They also like that the car's software provides wireless updates.
There's a smartphone app for the Atto 3 that allows its users to control from a distance many of the car's functions: check battery capacity, start car, work air-conditioning, lock or unlock doors, put windows up or down, blow the horn …
The Tinder dating app is next on BYD's menu. It's the world's most popular kiss-and-tell site, with an estimated 75 million users each month. You'll soon be able to check from a BYD touchscreen whether you're a hot date … or not.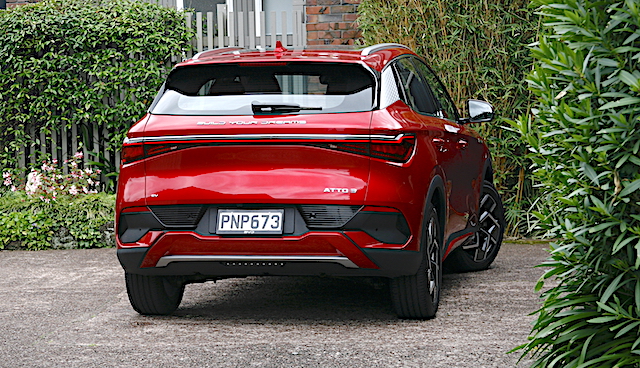 Atto 3 is BYD's only model in New Zealand, but more are on the way. BYD models in China include the Song, Han, Tang, Seal – each one linked to an historic dynasty and fifth-century BC sage Confucius. The Song Dynasty was big on Confucianism. The Han Dynasty emperor made Confucianism the official state ideology. The company name BYD – Build Your Dreams – is a nod to Confucianism.
So too is the Atto 3 handle. Atto itself is a prefix in the metric system meaning one quintillionth, or the number 1 with 18 zeros after it. It exists on paper but how do you quantify it? How can it be measured? Atto serves to remind BYD of another Confucius saying: there is no end to pursuits …
Number 3 is lucky. It can mean birth. And BYD is a relative new-born in the car world. Then there's the 3 'guitar' strings above the storage bins on the car's four doors. They each ring a different musical note. Music, Confucius said, helps everything from harmony in the individual to stability in business and government.
Number 8 had to figure. It's the luckiest number in Chinese culture, associated with prosperity. BYD embeds it in its 8-in-1 business strategy. It's an all-for-one, one-for-all game plan, quite apart from automotive tradition, where BYD itself produces pretty much everything needed to make the car: batteries, electric motors, electronics, inverters, gears, semi-conductors and so on. As a result, it's largely unaffected by parts supply issues.
Atto 3 landed in New Zealand in July/August last year and immediately won over BEV buyers and car of the year judges. Motor Industry Association (MIA) figures for the first quarter of 2023 had it as the No. 1 seller, with 995 registrations, just pipping the Tesla Model Y's 991. Atto 3 and the Model Y each have 22% of the market for a combined 44%. The MG ZS is No. 3 with 557 sales for 13%.
The success of home-grown Chinese brand BYD – not to mention that of Chinese-owned nameplates like Britain's MG and Sweden's (Volvo) Polestar – comes as a think tank across the Tasman says China is pulling ahead in the race for global technological dominance. The Australian Strategic Policy Institute finds China is the global leader in 37 of the 44 technologies tracked by the Canberra organisation, including critical minerals processing for EV batteries.
For example, China has about a third of the world's reserves of rare earth elements, 85 per cent of global processing capacity and closer to 90 per cent of the manufacturing capacity for high-strength rare earth magnets. China produces 75 per cent of all lithium-ion batteries. It also produces 80 per cent of the world's graphite, mines 60 per cent of the lithium market and accounts for even more of the lithium processing market.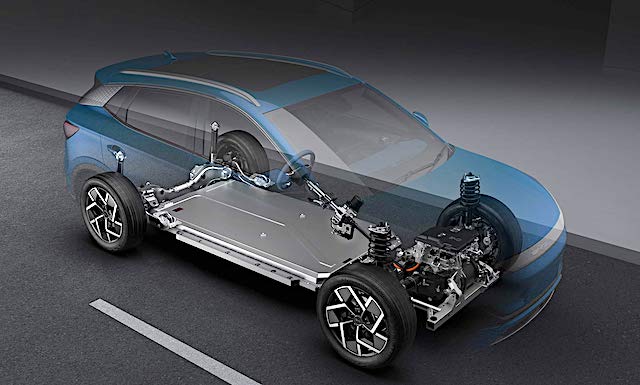 BYD has made its name by doing batteries differently, using as its cathode material lithium-iron phosphate (LFP) chemistry instead of nickel-based lithium-ion. That and its patented Blade technology, where battery cells are mounted plank-like in steel casings to become structural members. The platform can be configured for front-, rear-, all-wheel drive.
LFP battery chemistry was discovered in the US, at the University of Texas, in 1996. It isn't as energy dense as nickel-based lithium-ion batteries, say those who know about these things, but is safer, more robust, isn't as costly, and has a longer cycle life. Its increased use, say analysts, along with a reduced need for precious earths like nickel and cobalt, could help to reduce the price of next-generation EVs. Indeed the likes of Tesla, Ford, and Volkswagen have invested in LFP technology.
The Atto 3's battery pack gets an integrated heat pump, a cooling and heating system that keeps the pack within its most efficient operating temperature range to cut energy loss. BYD says the system can boost thermal efficiency by up to 20% in winter. We should know more about this if the weather forecasters are right about colder months ahead. Vehicle to Load (V2L) is also fitted as standard to all Atto 3 models. Simply, V2L means the battery can power appliances outside the car. BYD says an Atto 3 powered a kidney dialysis machine at a home in Hawkes Bay, when the grid was down during Cyclone Gabrielle.
BYD has three Atto 3 models in New Zealand: Standard, Extended Range, and Tachyon, each one 4455mm long, 1615mm high, 1875mm wide and with a 2720mm wheelbase. Standard is priced from $58,990, Extended from $62,490, and Tachyon from $74,900. Subtract the Government's BEV rebate of around $8625 in each case.
All three run a single front-wheel-drive electric motor developing 150kW/310Nm, a 0-100km/h sprint time of around 7 seconds, and top speed of 160km/h. Transmission is a single speed automatic. Range is on paper, of course, like all BEVs. Standard's 50kWh battery pack is good for 345km. The bigger 60.48kWh pack in Extended and Tachyon offers 420km. Tachyon is a special edition, with swished-up cabin materials, among other add-ons.
Atto 3 might be Chinese but it was designed inside and out by a German, Wolfgang Egger, an industry veteran who was once the chief designer at Audi. Egger penned a car that, on the outside at least, is understated, an unassuming 'grey' car that has a presence but doesn't stand out from the crowd. Egger followed BYD's script at the front end, where the swept-back headlight assembly is supposed to reflect the eyes of the mythical dragon and the good things it represents in Chinese culture.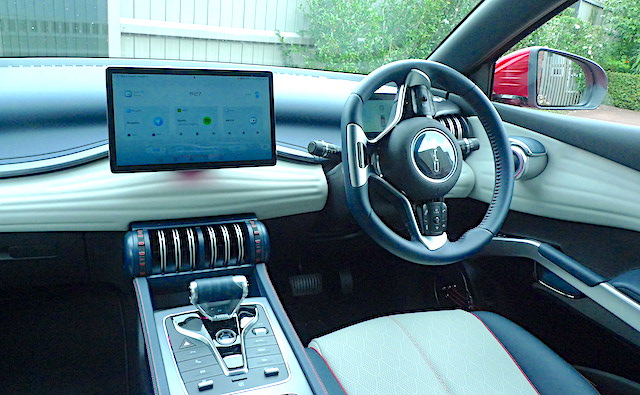 Where Egger did give Atto 3 a signature look is in the cabin. For room, comfort, and user friendliness the cabin itself is up there with the leaders in the compact class, if not the leader itself. The electrically adjustable front seats are super supportive. There's plenty of room in the rear seats and the boot's 440 litres is class-competitive. Collapsing the rear seat backs opens up 1338 litres.
Some of the design elements, however, will forever remain an acquired taste. BYD will tell you the look was inspired by circular gymnasium equipment. The origin of the word gymnasium is ancient Greek. In philosopher Aristotle's time it meant 'naked place'. The front half of the Atto 3 cabin could be said to be naked, especially much of the clean dashboard assembly above and below the infotainment screen. The so-called guitar strings could even represent the lyre, a stringed instrument played by ancient Greeks, among others.
Taking BYD's imagery for a further ride – along with your imagination – the air-conditioning vanes on either side of the dashboard and on the centre console could indeed look like a line-up of round weightlifting plates. The door handles are circular and could look gym-like, too. Perhaps BYD was influenced by both Confucius' and Aristotle's idea of harmony in health.
But the air-con vanes is one design element that takes the circular theme beyond subtle and bruises what overall interior harmony BYD was seeking up front. The guitar strings is another, too gimmicky by half. Harmony is of course the quality of forming a pleasing and consistent whole.
The T-bar gear lever doesn't exactly fit the theme either. It too looks out of place, jutting up from a panel on the centre console. A rotary dial gear selector with a park button centre would better complement the circular themes elsewhere.
The panel has the stop/start button along with park brake, knurled roller dials – one for Normal, Sport, Eco modes, another for brake/energy recuperation – and other push-button functions. The look of the lid on the console's storage bin goes back to the gym again – it is supposed to resemble a treadmill's platform.
The Tesla-type touchscreen rotates 90 degrees from portrait to landscape. A nifty touch. But what happens if a glitch traps it halfway through rotation and it locks askew? Who ya gonna call? There is some evidence, says BYD, that owners like seeing the track titles to music in landscape format but navigation maps in portrait. The screen was hard to read at times, mostly when bright sunlight entered the cabin.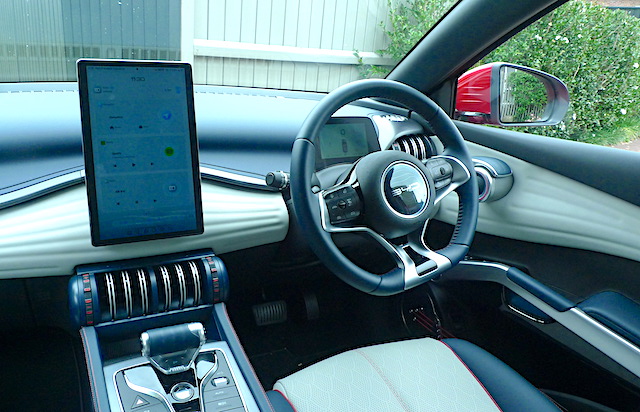 A small screen on top of the steering column takes the place of a traditional instrument cluster. It shows digital speed, power usage, time of day, whether the car's in Drive, Reverse, Park modes, remaining range, temperature, tyre pressure … Its size seemed peculiarly inadequate at first but it tells you all you need to know.
The Atto 3 has pretty good road manners on its 18-inch wheels. There's not a lot of feedback from the helm but the ride itself is excellent, the MacPherson struts at the front and independent multi-link system at the rear keeping the car composed over all but the worst surfaces.
We spent almost of all the drive time in Sport mode, where the brisk throttle helps punch through holes in congested city traffic. Away from the madding crowd, torque steer can be induced powering out of tight corners. Normal makes sense on the open road; Eco if the battery is running out of oomph and you're searching for a charge site.
Energy recuperation when lifting off the throttle in some BEVs can bring the car to a halt. But not the Atto 3. Its maximum setting does slow the vehicle appreciably, but you still need to brake to come to a stop. That said, the all-round discs are powerful.
The battery pack comes with a six-year/180,000km warranty and the car itself gets six years/150,000km. Turning circle is 10.7m, braked towing 750kg. Maximum charge rate is 80kW. The earlier hiccup at a BP station aside, that's fast enough to add 250km or so inside 50 minutes at one of the many quick charge sites around the country.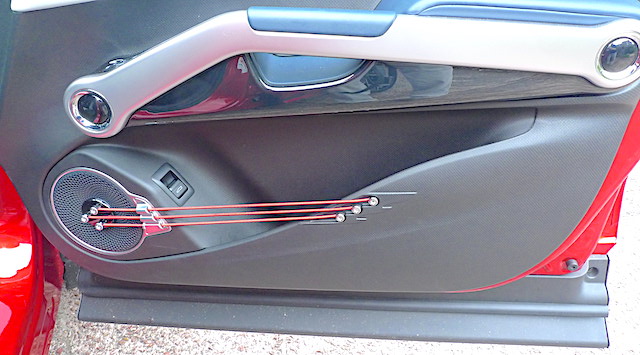 • The three 'guitar' strings: A clip-on digital guitar tuner had the top string note at F, the middle string at G, and the bottom string at A. Add a fourth string note C and, with a little improvisation, the car's occupants could get a gig going. All four notes hold together songs as diverse as Auld Lang Syne, Man in the Mirror, Let It Be, and Adele's Someone Like You. But there will never be a fourth string. Four is an unlucky number in Chinese culture. Four can mean death.