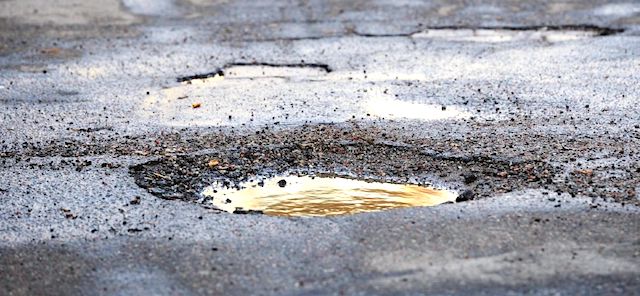 Road damage analysis using the 'fourth power formula' has surfaced as the National Party stokes its election campaign with a proposed $500 million fund to repair New Zealand's crumbling road surfaces.
The formula – a common mathematical equation – is used by highways engineers to assess the damage caused to roads by heavier vehicles. It means that if weight on a vehicle's axle is doubled, it does 16 times the damage to the road.
National Party transport spokesperson Simeon Brown says more than 54,000 potholes needed repairs last year. In 2018, says Transport Minister David Parker, almost 40,000 potholes needed repairs. Potholes therefore grew 35% in number in four years.
Heavy goods trucks and big trailer rigs carrying shipping containers regularly use sealed residential roads, especially in congested Auckland, where Brown says 1000km of road needs urgent repairs.
National says its $500m "pothole repair fund" would come from pulling money out of the NZ Land Transport budget, particularly from expensive public awareness campaigns, like the overbearing demands for slower road speeds coupled with similarly overbearing Road to Zero reminders.
It is understood National have factored into the repair fund the hundreds of millions of dollars it will save from dropping part or all of the government's Clean Car programme for electric vehicles, if it becomes the government after October.
The proliferation of battery-electric vehicles (EVs) in the UK has focused closer attention on road surface damage. The number of EVs on roads there has tripled to more than 900,000 since 2019 ahead of the government's 2030 ban on sales of new petrol and diesel cars.
A recent study found that EVs cause twice as much stress to asphalt surfaces than petrol equivalents. The University of Leeds assessed the weights of 15 popular EVs. Researchers divided them by size, including smaller ones weighing over 1000kg, medium models over 1500kg, and larger vehicles of 2000kg and more.
They found that EVs, because of their heavy battery packs, which can weigh up to 500kg and more, were on average 312kg heavier than similar petrol versions. The stress of constantly moving traffic on roads causes small cracks in asphalt. Ignored, the cracks expand and eventually become potholes.
The research concluded that the average EV puts 2.24 times more stress on roads than its petrol equivalent, and 1.95 more than diesel. Larger EVs weighing over 2000kg cause the most damage, with 2.32 times more wear applied to roads.
A separate study at the University of Edinburgh found that the rollout of electric trucks could increase the damage to roads in Scotland by almost a third.
A lead researcher estimated that it could cost the Scottish government and councils an additional £164 million ($NZ341m) to maintain roads if all buses and trucks became electric, The Telegraph (London) reported.
It said that the additional weight of personal EVs is unlikely to have much of an impact on UK motorways and main roads, which are designed to withstand axle weights for heavy goods vehicles (HGVs).
But EVs on residential and rural roads are likely to have more of an impact. The UK government is looking at taxing vehicles based on weight, following a report by the centre-right think tank the Centre for Policy Studies into road damage from EVs.
In New Zealand last month, there were around 85,000 plug-in EVs, made up of 61,220 battery-electric and 23,700 plug-in hybrids. EVs account for about 1.8% of New Zealand's vehicle fleet. New Zealand has around 95,000km of road, comprising 11,000km of state highway and 84,000km of urban and rural.