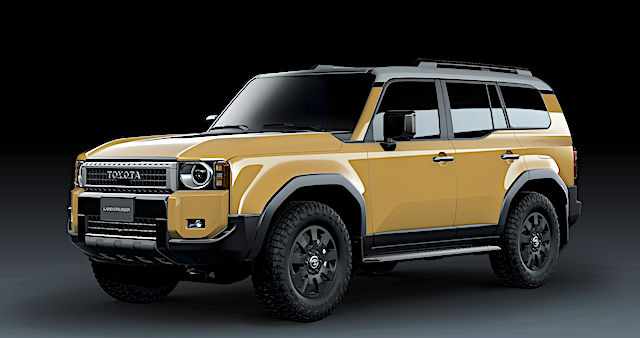 It's pretty much a sure bet that New Zealand won't get the 'greenest' powertrain in the new Toyota LandCruiser Prado 4×4 range. It's a petrol-electric hybrid that, had it been available, would have made more palatable Toyota NZ's frequent references to cutting exhaust emissions.
Instead, the 2024 Prado – the first all-new Prado in 14 years – gets the same turbocharged 2.8-litre diesel engine in use in the current Prado and Hilux. The new hard-working 70-series gets it too, although its torque delivery has changed. More on the workhorse 70 down the page.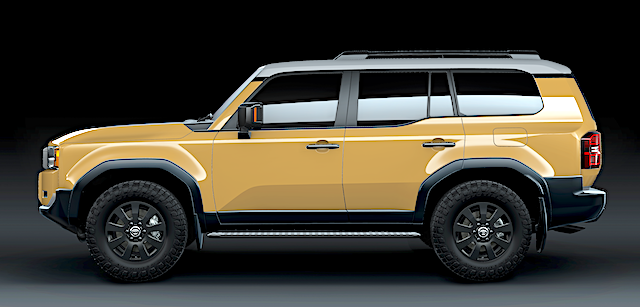 For Prado, Toyota has given the four-cylinder 1GD unit a shave and clean shirt of sorts by ditching the six-speed auto 'box for an eight-speeder and adding – like it has with Hilux – 48-volt mild-hybrid assistance.
Output remains the same as the current engine: 150kW@3400rpm and 500Nm@1600-2800rpm. But Toyota reckons the 48-volt system will cut Prado's average C02 emissions by 5%, to perhaps around 200gr/km.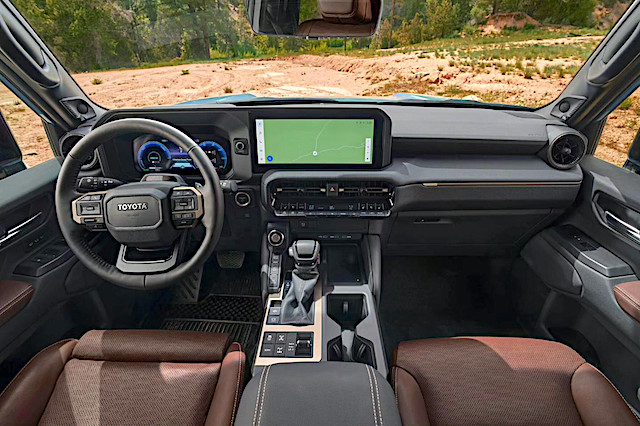 There's nothing mild hybrid, however, about the Prado engine with the cleanest credentials. The four-cylinder, turbocharged 2.4-litre full-hybrid is from Toyota's luxury arm Lexus, where it has a best C02 in a Lexus SUV of around 145gr/km.
It will power the new Prado only in the US and Chinese markets. It has been tuned to deliver 243kW/630Nm on 95octane petrol, output that makes it one of the most powerful production LandCruisers. But the hybrid doesn't have the braked towing capacity of the diesel: 2720kg against 3500kg.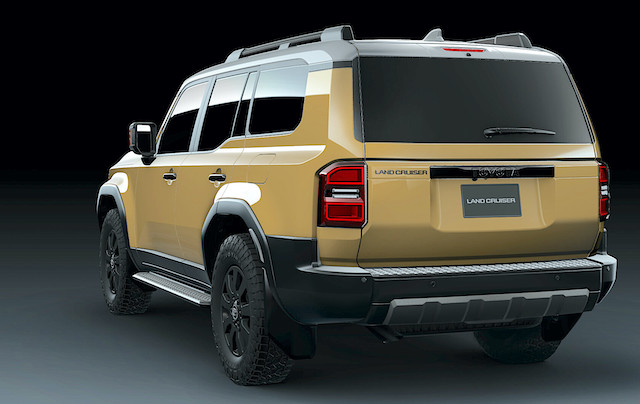 The seven-seat Prado is bigger all-around than the current model and arrives in New Zealand early next year. Measuring 4925mm long, 1980mm wide and 1870mm tall, it is 100mm longer, 95mm wider and 20mm taller than the outgoing model. Its 2850mm wheelbase is 60mm longer.
It shares its body-on-frame chassis with the LandCruiser 300 series, Toyota Tundra pick-up truck, and the Lexus GX and LX SUVs. It shares also the boxy styling of the Lexus GX. A further dimension: Prado's 2850mm wheelbase is the same as the LandCruiser 300.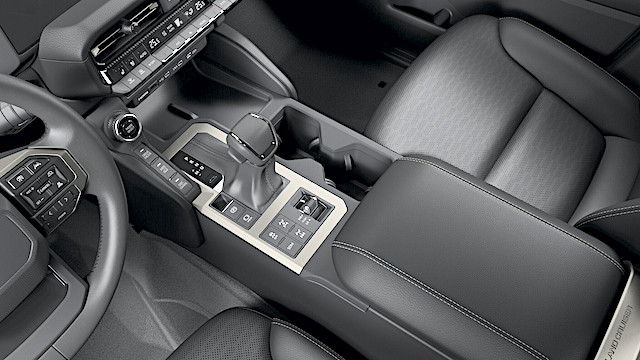 Inside, Prado gets the latest Toyota design touches and the latest software for over-the-air updates. There's multi-zone climate control and wireless charging. A 12.3-inch infotainment touchscreen handles sat-nav, smartphone connectivity, Apple CarPlay and Android Auto. The instrument display is also a 12.3-inch screen.
Safety technology is expected to include a raft of aids, among them autonomous emergency braking, adaptive cruise control, lane centring assist, blind-spot monitoring, and rear cross-traffic alert. Power steering is now electric.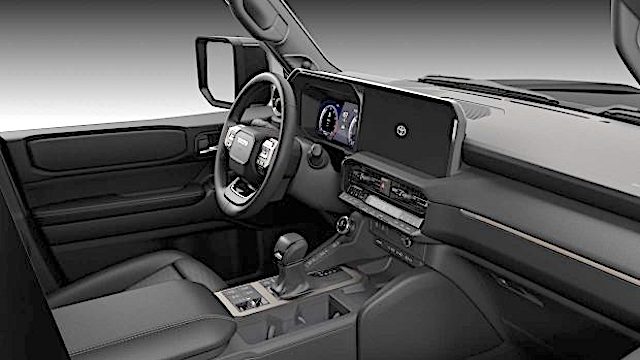 Suspension is carried over: a rigid rear axle on coil springs and a strut-based independent front. What hasn't been available up front before is a disconnect anti-roll bar for improved off-road going. Jeep Rubicon Wrangler has had a similar system for some years.
Full-time four-wheel drive comes with high and low-range modes, and locking rear and centre differentials. Early reports say Toyota has carried over the same mechanical centre diff from the current Prado rather than adopt electronically controlled clutch packs used by some rival 4x4s.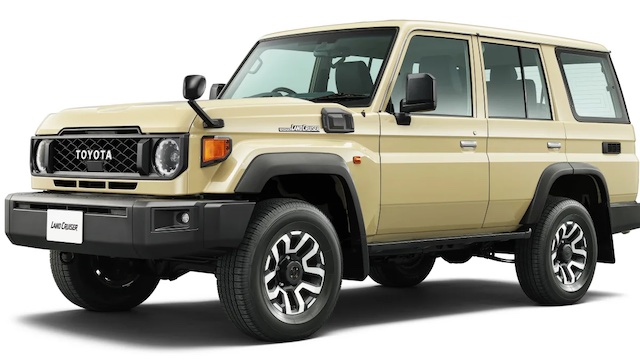 As for the rugged 70-series (pictured above and below), power and torque remains the same 150kW/500Nm as that delivered by the Prado/Hilux powerplant, but engineers have remapped the 500Nm to kick in 1000rpm lower, from 600rpm through to 2800rpm.
It's a revision that pretty much means Toyota NZ will phase out from the 70 line-up the longtime 4.5-litre, single-turbo V8 diesel engine and its five-speed manual 'box. It generates 151kW@3400rpm and 430Nm@1200-3200rpm – 1kW more than the 2.8-litre but 70Nm less. C02 from the V8 is nearing 300gr/km.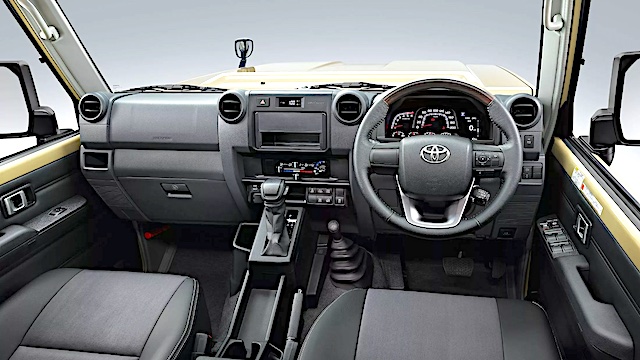 The change also means the 2.8-litre engine provides peak torque over a 2200rpm (600-2800) spread, where the V8 's spread is 2000rpm (1200-3200).
The 70 comes in two grades, LT and LX, both with a six-speed auto and a braked towing capacity of 3500kg. It rides on the original ladder frame chassis but, says Toyota, on-road ride and handling has been improved without compromising its off-road ability.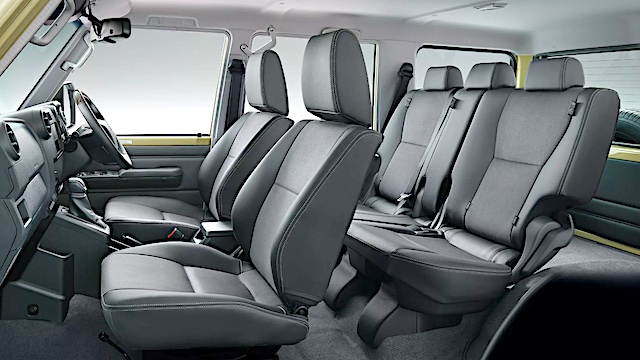 The new 70 has been redesigned inside and out. The front end especially hints at 70 models of yesteryear. Inside, there's a new infotainment touchscreen and a new-look instrument cluster with a digital speedometer.
Toyota has added more safety aids to go with the existing autonomous braking technology. Land Cruiser 70 will be available in New Zealand later this year.