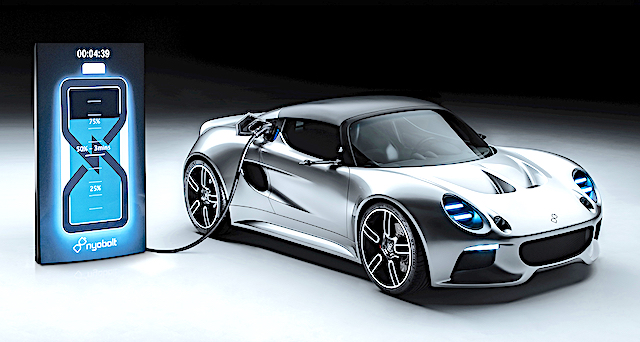 Two celebrated car designers have collaborated with UK battery technology company Nyobolt to deliver a Lotus-lookalike electric sports car that can be fully charged from zero capacity in six minutes.
The accelerated charge time is one of the benefits of advanced tungsten anode technology, which delivers 10 times more charging power than a conventional battery, says the company.
"We are pioneering battery technologies that achieve record-breaking ultrafast charging and high power density," Nyobolt says on its website. "This solves a critical need that other battery innovations, such as solid state, can't meet." Nyobolt expects to begin production of the batteries next year.
Tungsten is a rare earth known for its high density and high melting point, properties that make it ideal for use in EV batteries, as it can withstand the high temperatures and pressures generated during the charging and discharging of the battery. Tungsten oxide has been used to replace cobalt in lithium-ion batteries.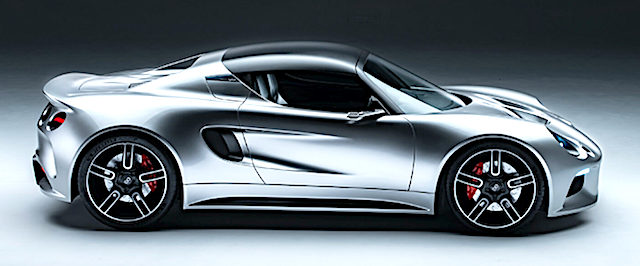 The Nyobolt EV might indeed look like the Lotus Elise but it's 100mm wider, 150mm longer, and its body is all carbon fibre. The company says it "weighs closer to one tonne than two," an acknowledgement that while its higher-density batteries are smaller and lighter, they are still heavy. The original Elise was a mix of fibreglass and aluminium and weighed around 750kg.
The EV two-seater was designed by Julian Thomson, who penned the Lotus Elise 30 years ago. Thomson is now the director of a European design studio for General Motors. Before that he was head of design for Jaguar Land Rover (JLR) for two years.
Working with Thomson on Nyobolt was the man he replaced at JLR in 2019, its former high-profile design boss Ian Callum, whose namesake independent consultancy built the EV concept. It features LED headlamps, camera mirrors, a diffuser, and other elements that boost its aerodynamic efficiency.
At the heart of the car is a 35kWh battery with a claimed range of 250km. Potential lifespan for the battery is more than 480,000km. Nyobolt says its engineers have tested the charging and discharging cycles over 2000 times without any significant losses. Charging the battery to 100% takes six minutes; 80% capacity takes four minutes.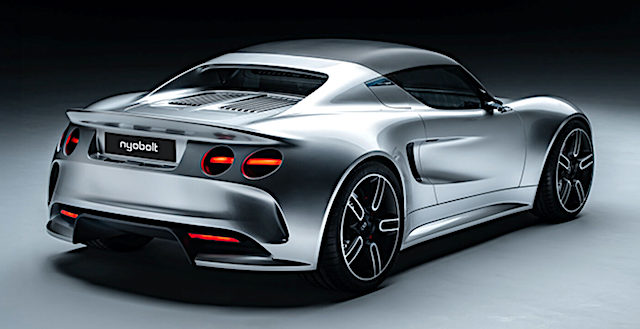 The lightweight 35kWh battery is said to enable recharging rates of 10C, meaning that a cell can charge at 10 times its stated capacity in amp hours.
Nyobolt was founded by energy storage specialists Professor Dame Clare Grey and Dr Sai Shivareddy, both fellows of Cambridge University. Nyobolt CEO Dr Shivareddy at one stage worked on battery energy for the Dyson company.
"At Nyobolt we are unlocking the potential of battery technology to power innovations that cannot wait," Dr. Shivareddy said. "The fast-paced switch to battery-electric vehicles is a great example of an industry that needs our patented battery right now to slash charging times from hours to a few minutes.
"Partnering with an established name such as Callum and utilising its experience and expertise in both automotive design and engineering will support our strategic aim of securing adoption in this sector."
Among the industry experts Nyobolt has hired to deliver on its battery and charging technology is ex-Mercedes AMG and Ricardo specialist Shane Davies, who heads its software and controls department.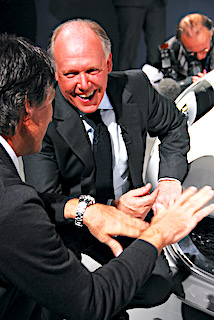 • I had dinner with Ian Callum in Sydney many years ago. We spent a few hours talking about things Jaguar: the look of the iconic C-, D-, and E-Types; what the F-Type might look like; would the upcoming small Jaguar sedan follow design cues; would Jaguar build a smaller version of the F-Type; what he liked about the design of this car and that car. Towards the end of dinner I asked him to sketch on a white linen napkin a coupe blending the best of two-door Jaguar and Aston Martin design. A few brush strokes with a pen and a sleek shape began to take form. Then he stopped. "I don't think I should finish this," he said, smiling and perhaps fearing that a complete sketch would find its way into print. He folded the napkin and slipped it into his pocket. Pity, I was going to ask him to sign the finished product so I could frame and hang it on a wall. I took this picture of Callum at the 2010 Paris motor show.